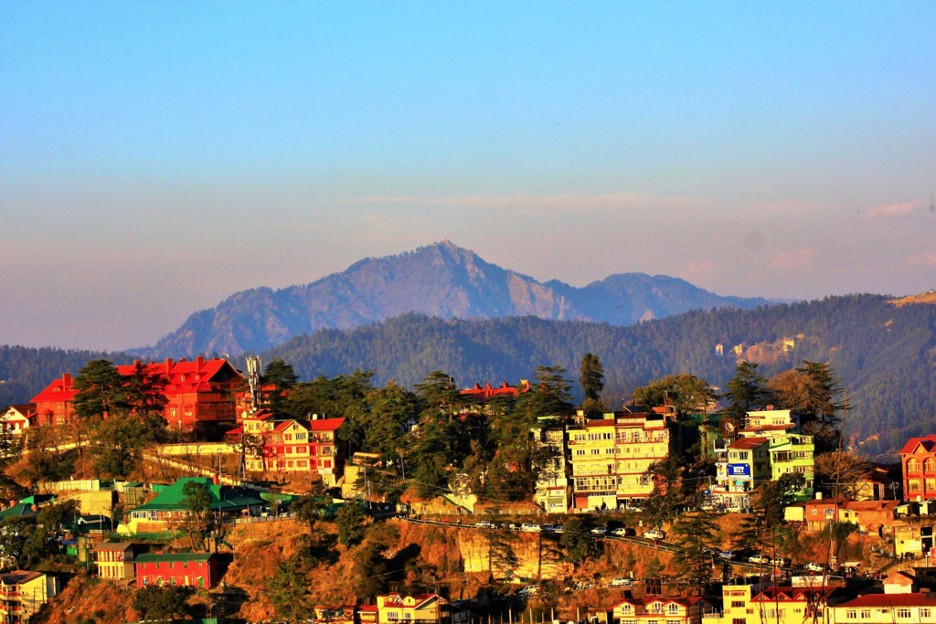 Shimla is best known by its visitors as the Queen of Hill Stations. Put forth by the British as their summer capital, this city is a small yet beautiful place where you can rejuvenate amidst nature. Shimla or Simla has always been on the bucket lists of every tourist, much like Manali. I remember having taken a car ride from Kalka Station to this pristine destination last year. However, if you are looking for a thrilling activity to kickstart your Shimla sojourn with, you may as well avail of the toy train from Kalka to reach this paradisical hill station.
Shimla has been a favourite among many travellers and thus, accommodation and food have never been an issue here. Many tourists visit this place every year and stay at the top hotels in Shimla to tour the city at their own place. However, if you are looking for an extravagant stay with a breathtaking view, there is nothing like the 5-star hotels can offer you. Yes, that's right! Situated near the prime tourist spots, the 5-star hotel rooms will give you an alluring view of the Shimla hills from its balcony that is too captivating to miss. Besides, you will be at Cloud 9 with the pampering services of the hotels. Having said that, if you are planning to stay at the best 5-star hotels in Shimla, here is a list that you can abide by.
Radisson Jass Shimla
Radisson Jass is one of the finest premium hotels in Shimla. With over 65 guest rooms and executive suites, this place promises you a stay like none other. Radisson Jass has each of its standard rooms and business suites designed and furnished exclusively. Each room is equipped with a flatscreen LED, 24-hour cold and hot water supply, a minibar and a fully equipped washroom with separate shower cubicles, hairdryers and toiletries from reputed international brands. A specially curated Welcome Basket is offered to every guest and it mostly consists of a choice of cookies, tea bags and an assorted selection of coffee. Besides, it also has an all-day dining area with over four interactive live kitchens where you can quench your food desire for Indian, European and Continental delicacies. Apart from this, there is also a bar with an elaborate open-air deck that consists of an exclusive range of wines and alcohol.
The Oberoi Cecil
An exclusive hotel from the chain of Oberoi Hotels and Resorts, The Cecil offers an elegant stay at the quaint side of the Shimla Mall. The hospitality at Cecil is exceptional and it offers the facility of private pickup and drops. If you look closely, you will be able to observe the various antiques and imperial designs of architecture that have been preserved by the Hotel in its centuries-old property. Staying at Cecil will not just expose you to a luxurious experience but will help you refresh every inch of your senses. The 24-hour dining area offers the vibe of a ballroom, with its old-world splendour. Each of the rooms is furnished with state-of-the-art amenities, elaborate LEDs, French-style wall-sized windows and long curtains. The beds are made with plush mattresses and the rooms have a separate brief sitting area. The washrooms are supplied with every requirement you will need for a luxurious stay at this hotel.
Welcomhotel by ITC Hotels
If you are willing to make the most out of what Shimla has to offer, Welcomhotel by ITC is the perfect place to stay during the sojourn. This hotel is a marvellous blend of luxury and comfort and is nestled brilliantly in the lap of nature. The hospitality and amenities here are unparalleled in the entire Shimla. It is also preferred by business officials travelling to Shimla to crack business deals. A vital reason for the hotel topping this preference is the elaborate conference hall equipped with technological advancements and catering which ensure that your meetings run smoothly and uninterrupted. Another brownie point is that the walls in each room are sound-proof and therefore, you will not face any disturbances while taking a nap. Overall, Welcomhotel takes it as a responsibility to welcome you with great respect and make your stay a memorable one.
Snow Valley Resorts
One of the grandest hotels in Shimla, Snow Valley is strategically situated on the National Highway 22. The terrace and open bar here offers an enchanting panoramic view of the cedar, fir, pine trees and magnificent mountains. If you are looking for a comfortable stay amidst nature, this hotel is a great selection apart from Welcomhotel. Every corner is exceptionally decorated with amazing wall decor, antique pieces and the beds are prepared with imported mattresses and pillows. The washrooms are equipped with everything you need for a soothing warm shower and the executive suites come with plush bathtubs and bubble soaps. The Viceregal Lodge and Hanuman Mandir are two of its important landmarks and also eminent places of interest. Snow Valley Resorts is located close to the airport and the hotel offers exclusive pickup and drops facilities.
Follow the list above to have a comforting stay amidst nature's lap and get pampered by the range of amenities that these hotels offer for a wonderful stay in Shimla.